WHAT HAPPENED YESTERDAY

As of New York Close 26 Mar 2020,

FX

U.S. Dollar Index, -1.60%, 99.29
USDJPY, -1.87%, $109.13
EURUSD, +1.52%, $1.1048
GBPUSD, +2.57%, $1.2193
USDCAD, -1.05%, $1.4043
AUDUSD, +2.01%, $0.6079
NZDUSD,  +2.15%, $0.5975

STOCK INDICES

S&P500, +6.24%, 2,630.07
Dow Jones, +6.38%, 22,552.17
Nasdaq, +5.60%, 7,797.54
Nikkei Futures, -0.62%,19,120.0

COMMODITIES

Gold Futures, +0.18%, 1,636.40
Brent Oil Futures, -1.61%, 26.95
SUMMARY: 
Dollar traded lower against all of the major currencies after jobless claims topped 3.2 million. In anticipation of this blowout report, Powell gave a rare broadcast interview on NBC's "Today Show" to reassure investors that the Fed is "not going to run out of ammunition" and they still have "policy room in other dimensions to support the economy." The Dollar was the weakest of the major currencies by far, falling by -1.05% against the Loonie and up to -2.57% versus Sterling. 
S&P 500 extended its weekly rally by 6.24% on Thursday after the Senate approved the $2 trillion fiscal stimulus package for the economy, which saw a record surge in weekly jobless claims. The Dow Jones Industrial Average rose 6.38%, the Nasdaq Composite rose 5.60%, and the Russell 2000 rose 6.3%. U.S. 2yr Yield fell 4bp to 0.30% and U.S. 10yr Yield fell 5bp to 0.83%. 
Initial claims for the week ending March 21 was a whopping 3.2 million (consensus 1.6 mio), which was above most expectations but also unsurprising given the slew of economic shutdowns aimed at slowing the rate of Covid-19  infections. For the market, and Congress, it quantified how bad the situation has been for American workers. 
House Speaker Pelosi (D-CA) said the stimulus bill will be passed later today by voice vote with "strong bipartisan support" despite some speculation that objecting members would request a roll call vote, which would further delay its passage. The impending fiscal relief, then, provided investors some reassurance while doing some quarter-end rebalancing.
U.S. HOUSE LEADERS PLAN TO PASS $2.2 TRILLION COVID-19 BILL FRIDAY
U.S. House Speaker Nancy Pelosi said she expected the chamber to pass an estimated $2.2 trillion Covid-19 relief bill when it meets later today after the Senate overwhelmingly approved the unprecedented economic rescue legislation on Wednesday evening.
The legislation will rush direct payments to Americans within three weeks once the Democratic-controlled House of Representatives passes it and Republican President Donald Trump signs it into law, Treasury Secretary Steven Mnuchin said.
IMPACT: The unanimous Senate vote, a rare departure from bitter partisanship in Washington, underscored how seriously members of Congress are taking the global pandemic as Americans suffer and the medical system reels. The massive Covid-19 rescue bill follows two others that became law this month. The money at stake amounts to nearly half of the total $4.7 trillion the federal government spends annually. Trump has promised to sign the bill as soon as it passes the House.

BANK OF ENGLAND WARNS OF LONG TERM DAMAGE TO ECONOMY
The Bank of England has warned there are mounting risks of widespread job losses and companies going out of business across Britain as the economic costs of the Covid-19 outbreak become more apparent. In a reflection of the scale of the crisis, the central bank's rate-setting monetary policy committee declared after its scheduled meeting on Wednesday that it "stands ready to respond further as necessary to guard against an unwarranted tightening in financial conditions and support the economy.
The MPC voted unanimously to maintain Bank Rate at 0.1% (expected). The committee also voted unanimously to continue with the program of £200 billion of UK government bond and sterling non-financial investment-grade corporate bond purchases, financed by the issuance of central bank reserves, to take the total stock of these purchases to £645 billion.
IMPACT: Sterling rebounded as the Bank of England kept interest rates unchanged at a record low of 0.1% and its asset purchase program steady at GBP200 billion.

NEW YORK, NEW ORLEANS HOSPITALS REEL AS U.S. LEADS WORLD IN COVID-19 CASES
The United States on Thursday surpassed China and Italy as the country with the most Covid-19 cases, as New York, New Orleans, and other hot spots face a surge in hospitalizations and looming shortages in supplies, staff, and sick beds. The number of U.S. cases of Covid-19 reached 81,378. China was second with 81,285 cases, and Italy third with 80,539 cases.
IMPACT: At least one New York hospital has begun a trial of sharing single ventilators between two patients. Dr. Craig Smith, surgeon in chief at New York-Presbyterian/Columbia University Medical Center in Manhattan, wrote to staff that teams had worked "day and night" to get the split-ventilation experiment going. The projected ventilator shortfall and the surge in hospitalizations have already raised the prospect of rationing healthcare. Asked about guidelines being drafted on how to allocate ventilators to patients in case of a shortage, New Jersey Governor Phil Murphy said such bioethical discussions "haunted him" but were unavoidable in the current situation.
China reached the peak in the number of cases after a total shutdown of the whole country, while the US has yet to do so and Trump is already contemplating reopening the places that have shutdown. The number of cases that we are about to see in the US will be unimaginable if the mismanagement continues.
DAY AHEAD
The next few jobless claims reports could be even worse, many investors are wondering if yesterday's rally in stocks is indicative of a bottom. It is hard to imagine that being the case as this is only the start of a long period of very high jobless claims. The incessant fall in Treasury yields and decline in the Dollar indicates that investors are not convinced.
SENTIMENT
OVERALL SENTIMENT: 
The stock market roared back for a 3rd day of gains amid optimism on the much discussed multi-trillion dollar stimulus package. Month-end rebalancing (where pension funds sell bonds which have gone up a lot and buy stocks which have fallen a lot) were also a factor in the relentless buying of stocks. Free money from the government can change prices of assets when denominated in the currency that is being printed in huge quantities but what about prices when denominated in hard assets or other currencies with lesser supply? 
With the Fed now ready to supply the world with unlimited USD, the value of the USD will eventually be eroded against currencies with lesser supply.
FX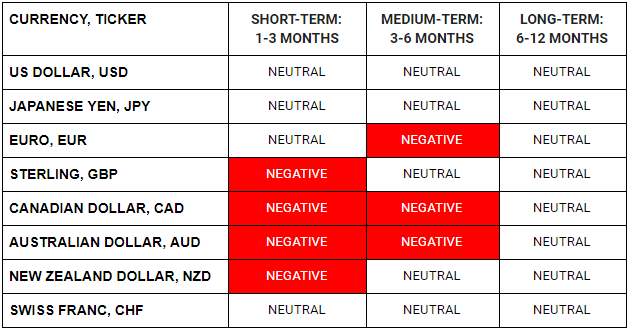 STOCK INDICES


TRADING TIP
There's more to Life than Trading
Despite the recent doom and gloom amid the crazy market volatility, there's always time to take stock and reflect on things that are important in life. This Covid-19 outbreak gives us an opportunity to take a step back from the relentless routine of life and re-evaluate what are the things that are important to us. 
Although, every message of mine is invariably about how bad it actually is and how much worse it will be (primarily because of inaction and mismanagement by policymakers), I do believe in spite of the carnage that is currently being wrought, it will eventually become better.
As human civilisation comes to grips with what is required to stop the spread of the virus, the planet in general is given an opportunity to heal. We, too, should take this required social distancing as an opportunity to reflect and reconnect with our loved ones. 
Take the time to listen to this song with headphones on both ears. You will be surprised by the effects of what they call 8D music. The music seems to come from somewhere further than the headphones. Enjoy the magic that technology brings to our lives as the song swirls around you. 
TGIF! The weekend is almost upon us. 😊