WHAT HAPPENED YESTERDAY

As of New York Close 22 May 2020,

FX

U.S. Dollar Index, +0.50%, 99.86
USDJPY,  0.00%, $107.63
EURUSD, -0.44%, $1.0902
GBPUSD, -0.47%, $1.2166
USDCAD, +0.30%, $1.3996
AUDUSD,  -0.44%, $0.6536
NZDUSD,  -0.12%, $0.6109

STOCK INDICES

S&P500, +0.24%, 2,955.45
Dow Jones, -0.04%, 24,465.16
Nasdaq, +0.43%, 9,324.59
Nikkei 225, -0.80%, 20,388.16

COMMODITIES

Gold Spot, +0.56%, 1,736.07
Brent Oil Spot, -1.67%, 34.17


SUMMARY:
Dollar rose against a basket of currencies on Friday, helped by safe haven demand as a move by Beijing to impose a new security law on Hong Kong further strained fast-deteriorating U.S.-China ties. China on Friday unveiled details of its plan to impose a national security law in Hong Kong that could see mainland intelligence agencies set up bases in the global financial hub, raising the prospect of more unrest there after last year's pro-democracy protests. Reports of the law on Thursday drew ire from Trump, sapping investors' appetite for riskier assets and driving the EUR, CNH, and commodity currencies (AUD, NZD, CAD) lower on Friday.
The major indices closed near session highs on Friday, preserving their weekly gains in front of the Memorial Day weekend. The S&P 500 increased 0.2%, the Nasdaq Composite increased 0.4%, and the Russell 2000 increased 0.6%. The Dow Jones Industrial Average (-0.04%) finished just below its flat line. U.S. 2yr yield remained unchanged at 0.17% and U.S. 10yr yield fell 2bp to 0.66%.
The tech sector was perked up by shares of NVIDIA (NVDA 361.05, +10.04, +2.9%) after the company reported positive quarterly results and upbeat guidance. Conversely, many of the cyclical sectors closed lower, including energy (-0.7%) and financials (-0.3%). Energy stocks were clipped by the decline in oil prices ($33.25, -0.71, -2.1%).
Friday's negative news came out of China as reports indicated it was going to implement national security laws on Hong Kong to tighten its control over the region. The Hang Seng Index declined 5.6% on Friday, while shares of Alibaba (BABA 199.70, -12.46, -5.9%) declined 6% despite beating quarterly estimates. Chinese stocks such as Alibaba continue to suffer from fears of having to delist from US stock exchanges after recent US initiatives. 
Separately, NIAID Director Fauci told media outlets that he was "cautiously optimistic" about Moderna's (MRNA 69.00, +1.95, +2.9%) COVID-19 vaccine candidate and that it was possible to develop a vaccine by the end of the year.
HUNDREDS PROTEST IN HONG KONG AGAINST PROPOSED NATIONAL SECURITY LAWS
Hundreds of people protested in Hong Kong on Sunday against Beijing's controversial new plan to directly impose national security laws on the city, where a tight police presence guarded China's representative office in the financial hub.
In drafting the legislation, which could see the setting up of Chinese government intelligence agencies in the global financial centre, Beijing plans to circumvent Hong Kong's lawmaking body, the Legislative Council. Authorities in Beijing and Hong Kong have said the proposed laws are necessary and will not harm the city's autonomy.
IMPACT: A backlash intensified on Saturday as nearly 200 political figures from around the world said in a statement the proposed laws said the proposed laws are a "comprehensive assault on the city's autonomy, rule of law and fundamental freedoms". Hong Kong has increasingly become a pawn in deteriorating relations between Washington and Beijing, and observers will be watching for any signs of resignation to defeat among the broader local community or indications that activists are gearing up for a fresh challenge. White House National Security Advisor Robert O'Brien on Sunday said that the U.S. government will likely impose sanctions on China if Beijing implements national security law that would give it greater control over autonomous Hong Kong. 
Expect heightened geopolitical volatility in the next few days as Hong Kong retakes the spotlight and with Washington's anti-China rhetoric running at full speed, they will make use of the situation to antagonize China further. All these are happening as the National People's Congress 2020 is taking place, it is likely that strong measures will be floated over the next few days, targeting the nations who are on the anti-China bandwagon. Expect Gold and Silver to trade higher over time as Safe Havens remain bid and the Hang Seng Index to trade lower as tensions increase.  
CHINA TELLS U.S. TO STOP WASTING TIME IN COVID-19 BATTLE
The United States should stop wasting time in its fight against the Covid-19 and work with China to combat it, rather than spreading lies and attacking the country, the Chinese government's top diplomat Wang Yi said on Sunday.
Sino-U.S. ties have nosedived since the outbreak of Covid-19, with the administrations of Trump and Xi Jinping repeatedly trading barbs over issues related to the pandemic, especially U.S. accusations of cover-ups and lack of transparency. The two top economies have also clashed over Hong Kong, human rights, trade and U.S. support for Chinese-claimed Taiwan.
IMPACT: China remains prepared to work with the United States in the spirit of cooperation and mutual respect, Wang said, when asked if Sino-U.S. relations would further worsen. "If you want to infringe upon China's sovereignty and dignity with indiscriminate litigation, and extort the fruits of the hard work of the Chinese people, I am afraid this is a daydream and you'll only humiliate yourself."
China is playing the "good cop" amidst the Trump administration's anti-China musings. We wonder how long this will last until the sleeping Dragon rears its ugly head. Keep a lookout for strong policy stance against the belligerent nations in the coming days as the Chinese Commnist Party congregates. Stay nimble if you have a position in Risk Assets like the AUD and NZD, they will sell-off on any counter-measures or threat thereof.
EASING LOCKDOWN, SPAIN TO REOPEN FOR TOURISM IN JULY
Spain will reopen its borders to tourists in July and its top soccer division will kick off again in June, the Prime Minister said on Saturday, marking another phase in the easing of one of the world's strictest lockdowns. Pedro Sanchez's dual announcements coincided with calls for his resignation over the lockdown's impact on the economy from the far-right Vox party, which called protests in cities across Spain drawing thousands of horn-blaring cars and motorbikes. Close to a million jobs were lost in March alone when the lockdown began and the Bank of Spain has forecast the economy will contract by up to 12% this year.
"From July, foreign tourism will resume in safe conditions. We will guarantee tourists will not take any risks and will not bring us any risks," Sanchez told a televised news conference, without giving further details.
IMPACT: Spain's overnight death toll from the coronavirus rose by 48 on Saturday to a total of 28,678, the seventh straight day that the fatality rate has been less than 100, while the total number of cases rose to 235,290. As Spain, peaks, countries like Russia and Brazil are fighting a raging fire on the virus front. Minor battles seem to be turning in the right direction, but the war is far from over. As we have been advocating, keep an eye on any second waves. 
DAY AHEAD
Virus recovery hopes have gotten a boost after preliminary PMI readings for May rebounded more strongly than expected, underscoring the market optimism. But with economic releases set to quieten down in the coming week, Washington's increasingly hostile language against China threatens to upset the dubious risk-on theme. Any panic-driven sell-off in risk assets could be accentuated from another anticipated plunge in personal consumption and durable goods orders in the US, which will be the main data highlights of the next seven days.
SENTIMENT
OVERALL SENTIMENT: 
Geopolitical tensions continue to rise with the Chinese government's intention to introduce a new security law for Hong Kong met with dissent both locally and in foreign nations. US threatening sanctions on Hong Kong should the proposal be passed is not going to help matters. Expect more volatility on this front in the days ahead.
FX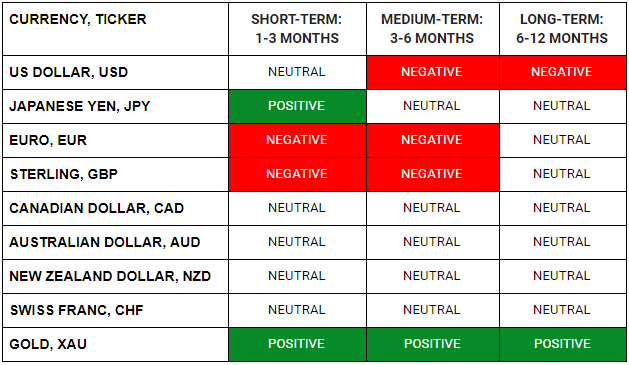 STOCK INDICES

TRADING TIP
A Fragile Truce…
With the rhetoric heating up between the US and China on various fronts, the truce is likely to be broken in time to come. A world ravaged by Covid-19 is a lot more fragile than it was when the last trade war broke. As the US Presidential election beckons, it is unlikely that a Trump bent on shifting blame away from his disastrous Covid-19 response will stop antagonising China. The Hong Kong situation will likely worsen in the days ahead as China's NPC presses ahead with the new HK security law proposal.  Expect more volatility and continued weakness of HK's stock markets in the days ahead. 
For those who celebrate, Eid Mubarak! For the rest of us, reach out to those who do!