WHAT HAPPENED YESTERDAY

As of New York Close 19 May 2020,

FX

U.S. Dollar Index, -0.11%, 99.56
USDJPY, +0.45%, $107.82
EURUSD, +0.11%, $1.0926
GBPUSD, +0.51%, $1.2256
USDCAD, +0.02%, $1.39439
AUDUSD,  +0.25%, $0.6540
NZDUSD,  +0.74%, $0.6086

STOCK INDICES

S&P500, -1.05%, 2,922.94
Dow Jones, -1.59%, 24,206.86
Nasdaq, -0.54%, 9,185.10
Nikkei 225, +1.49%, 20,433.45

COMMODITIES

Gold Spot, +0.80%, 1,746.24
Brent Oil Spot, -2.16%, 33.10

SUMMARY:
AUD, NZD and GBP continued with their retracement and JPY crosses in particular ripped higher as shorts that were initiated at bad levels continued to be taken out with stocks trading strong from early on in Asian session. Even though stocks lost some momentum during the NY trading session, the risk currencies continued to trade strongly. The moves are confusing to say the least, but fundamentals remain especially bad for GBP (stuck in Brexit limbo), AUD (rising tension with China) and NZD (extremely dovish RBNZ). The time to reinitiate shorts on this currency should come again when the momentum of the correction wanes. 
In Washington, Fed Chair Powell and Treasury Secretary Mnuchin testified before the Senate Banking Committee regarding the government response to Covid-19. Powell reiterated the Fed's commitment to using its full range of tools to support the economy, and Mnuchin said he's prepared to increase risk and lend more money. Dollar fell against the EUR on Tuesday as the common currency added to Monday's gains on a Franco-German proposal for a fund that would offer grants to European Union regions and sectors hit hardest by the Covid-19 pandemic. Germany and France, whose agreements usually pave the way for broader EU deals, proposed that the European Commission borrow 500 billion euros ($550 billion) on behalf of the whole EU. The Commission is expected to outline its proposal before a European summit scheduled for May 27.
S&P 500 pulled back 1.1% on Tuesday, as stocks succumbed to late-day selling following a negative-sounding vaccine headline. The Dow Jones Industrial Average (-1.6%) and Russell 2000 (-2.0%) declined more than the benchmark index, while the Nasdaq Composite (-0.5%) fared slightly better. U.S. 2yr yield fell 1bp to 0.17% and U.S. 10yr yield fell 3bp to 0.70%.  
For most of the session, the S&P 500 wavered around its flat line, supported by relative strength in the technology stocks. As the S&P 500 traded at session highs (+0.4%) late in the session, Stat News published a report in which vaccine experts cautioned about Moderna's (MRNA 71.67, -8.33, -10.4%) Covid-19 vaccine candidate due to a lack of critical data provided.
Recall, stocks rallied on Monday after the company said a Phase 1 trial yielded positive results. The negative-sounding headline, then, provided a good excuse for investors to take some profits given the uncertainty that remains. 
Moderna was caught in a web of suspicion in a "bait and switch" pump where insiders built up a position in the stock with insider knowledge of "positive development" and dumping it on spikes, as reports about insider share sales emerged. Moderna's billionaire founder and CEO Stephane Bancel along with the White House's new vaccine czar, Moncef Slaoui stands to profit from the action. CNBC reported that the CEO has been selling his stock in the past weeks during the course of the stock price rise. Moncef Slaoui holds more than 150,000 options contracts, worth more than $12 million and resisted pressure to divest them despite the conflict of interest. Sen. Elizabeth Warren, D-Mass., decried Slaoui's continued holdings in Moderna, calling it a "huge conflict of interest."
Separately, Facebook (FB 216.88, +3.69, +1.7%) introduced "Facebook Shops" and "Instagram Shop" to help more businesses go online. Spotify (SPOT 175.03, +13.60, +8.4%) shares climbed 8% after the company reached a deal to exclusively host the Joe Rogan Experience podcast.
TRUMP THREATENS TO HALT WHO FUNDING, REVIEW U.S. MEMBERSHIP
Trump threatened on Monday to permanently halt funding for the World Health Organization (WHO) if it did not commit to improvements within 30 days, and to reconsider his country's membership of the agency.
Trump suspended U.S. contributions to the WHO last month, accusing it of promoting Chinese "disinformation" about the Covid-19 outbreak, although WHO officials denied the accusation and China said it was transparent and open.
"They have to clean up their act. They have to do a better job. They have to be much more fair to other countries, including the United States, or we're not going to be involved with them anymore," Trump told reporters at the White House. 
IMPACT: The United States contributed more than $400 million to the WHO in 2019, or about 15% of its budget. The United States traditionally provides several hundred million dollars annually in voluntary funding tied to specific WHO programmes like polio eradication, vaccine-preventable disease, HIV and hepatitis, tuberculosis, and maternal and child and health. The United States withdrawing from the WHO is an indirect spite towards China. Geopolitical volatility is being ratcheted in every possible angle and Safe Havens like Gold and Silver will continue to outperform.
RUSSIA AWAITS U.S. VENTILATOR AID AS COVID-19 CASES NEAR 300,000
The United States said on Tuesday it would this week start delivering 200 medical ventilators to Russia, which has the world's second-highest number of confirmed Covid-19 cases. Russia reported 9,263 new infections on Tuesday, pushing its nationwide total to 299,941, and 115 more deaths, taking the total death toll to 2,837. Only the United States has reported more Covid-19 cases.
IMPACT: Foreign Minister Sergei Lavrov said the United States planned to deliver the machines in two planes and that Washington would cover all the costs. This is the U.S. chance to build goodwill relations with Russia especially in a time when the relationship between Russia and China is under strain.The pandemic had cast a shadow over relations between China and Russia, partly because of Moscow's early move to shut border crossings in late January despite Beijing's opposition.
MEXICO COVID-19 CASES HIT NEW DAILY RECORD OF 2,713
Mexico registered 2,713 new cases of the Covid-19 on Tuesday, the health ministry said, its biggest daily increase yet in infections, bringing its overall tally to 54,346 cases. Authorities also registered 334 more fatalities, only the second time that the daily death toll has exceeded 300. The country has now tallied 5,666 overall deaths from the virus.
IMPACT: This came a day after Mexico issued guidelines for restarting operations in the automotive, mining, and construction sectors, pushing ahead with reopening the economy despite a growing national toll from the Covid-19 pandemic and concerns about unsafe work sites. Mexico is a microcosm of the potential effect if countries do not have proper measures in place. Should case counts pick up, the Mexican Peso (MXN) will weaken against Safe Havens like the Dollar and Japanese Yen (JPY). 
DAY AHEAD
In Britain, the preliminary PMIs for May will hit the markets on Thursday, ahead of retail sales for April on Friday. The PMIs are expected to rise, but to remain deep within contractionary waters, while retail sales are primed for a record collapse. As for GBP, it is being battered from all sides. The UK economy will reopen very slowly, investors are worried that deficits will result in austerity, the BoE is considering negative rates, and to top everything off, the risk of a no-deal Brexit is back on the radar.
First, markets weren't impressed by the government's handling of the health crisis, as the early hesitation to shut down the economy now means a longer period of things staying shut. Second, there are growing fears the exploding government deficit will result in 'belt-tightening' austerity once the crisis ends, either via tax increases or by spending cuts or both, sapping demand as the recovery begins.
SENTIMENT
OVERALL SENTIMENT: 
The rallies continue to be stronger than the sell-offs but S&P500 is trading close to previous recent highs. Caution should be the order of the day as Fed speakers continue to speak of the economy in a much more sombre tone than the politicians. Horrible economic data is pretty much expected and ignored these days, but bankruptcies and layoffs will eventually take a toll on confidence.
FX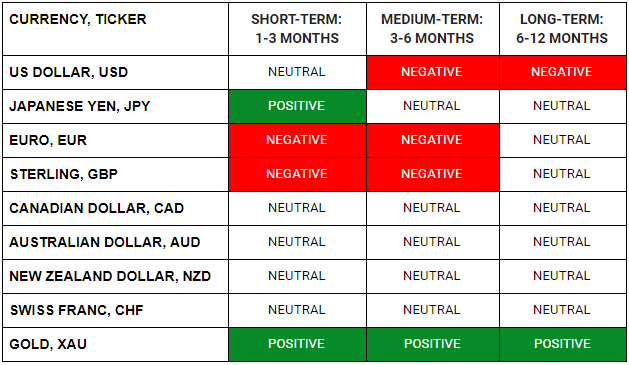 STOCK INDICES

TRADING TIP
Filter out the Noise
You will often be inundated with random noise in a market that seems directionless. Sentiment changes on a dime based on headlines that can hardly be anticipated at times. However, in the midst of all the noise, there will be occasions when a clear trend seems to be emerging. This seems to be the case with Gold and especially, Silver now. 
When the market speaks, take heed, and take action!