WHAT HAPPENED YESTERDAY

As of New York Close 14 May 2020,

FX

U.S. Dollar Index, +0.03%, 100.27
USDJPY, +0.30%, $107.36
EURUSD, -0.10%, $1.0806
GBPUSD, +0.02%, $1.2234
USDCAD, -0.48%, $1.4033
AUDUSD,  +0.24%, $0.6471
NZDUSD,  +0.33%, $0.6012

STOCK INDICES

S&P500, +1.15%, 2,852.50
Dow Jones, +1.62%, 23,625.34
Nasdaq, +0.91%, 8,943.72
Nikkei Futures, +0.19%, 20,153.0

COMMODITIES

Gold Spot, +0.99%, 1,732.93
Brent Oil Spot, +7.04%, 29.48
SUMMARY:
Dollar rose to a three-week high on Thursday as yet another week of roughly 3 million new jobless claims, evidence of a second wave of Covid-19-related lay-offs, became the norm. The Japanese Yen and Swiss Franc were both weaker against the Dollar and flat versus the Euro. Total jobless claims for the week ending May 9 totaled 2.981 million (consensus 2.475 million) while continuing claims for the week ending May 2 totaled 22.833 million. The elevated figures raised doubts on a timely economic recovery, but the data might have prodded lawmakers to act more quickly for additional fiscal stimulus.
Reports followed that the White House was interested in a bipartisan, fourth Covid-19 relief bill (although not the $3 trillion bill proposed by House Democrats). The possibility for more stimulus, coupled with a view that the recent weakness in the market provided a good entry point, helped ignite a buy-the-dip mindset.
S&P 500 advanced 1.2% on Thursday as stocks staged a comeback led by the beaten-up financial sector. The benchmark index was down as much as 1.9% in early action following a relatively disappointing weekly jobless claims report.
Sentiment might have also been boosted by an IEA report suggesting oil demand has been a little stronger than expected, The Wall Street Journal reporting that Taiwan Semi (TSM 52.10, +1.18, +2.3%) will announce plans to build an advanced chip factory in Arizona, and news that Connecticut overstated its weekly initial claims count by more than 200,000.
WHISTLEBLOWER WARNS OF 'DARKEST WINTER' IF U.S. DOESN'T PLAN AGAINST COVID-19
Hours after Trump railed against him on Twitter, whistleblower Rick Bright testified to a U.S. House of Representatives panel about readiness for the outbreak. Bright was removed last month as director of the Biomedical Advanced Research and Development Authority, or BARDA, which is responsible for developing drugs to fight the Covid-19.
"What we do must be done carefully with guidance from the best scientific minds. Our window of opportunity is closing. If we fail to improve our response now, based on science, I fear the pandemic will get worse and be prolonged," Bright said.
IMPACT: Trump, who has been pushing for the U.S. economy to reopen quickly, dismissed Bright as a "disgruntled employee" on Twitter on Thursday morning before the hearing began. It is disturbing to see the Trump administration recklessly handling the virus situation, this is exactly the kind of hubris that will cause a second wave of infection and a protracted economic crisis in time to come. Safe Haven currencies like the Japanese Yen should trade at a premium relative to most counterparts.
UK ECONOMY FACES LONGER-TERM DAMAGE FROM COVID SHUTDOWN
Britain's economy will suffer longer-term damage from the current Covid-19 shutdown but it remains highly uncertain how severe it will be, Bank of England Governor Andrew Bailey said on Thursday. Bailey also said in a webinar organised by the Financial Times that it was unclear whether a 30% drop in Britain's economic output in the first half of 2020, as outlined as a possibility by the BoE last week, would prove overly pessimistic or an under-estimate of the damage.
IMPACT: Central Bankers around the world are warning of the protracted impact of the virus on the economy, whilst stocks are remaining nonchalant about it and front loading the effect of incessant money printing. As we have suggested, the chickens will eventually come home to roost and several legendary hedge fund managers have, over the past 2 weeks, warned that the end of the bear market rally is nigh.
TRUMP SAYS HE DOESN'T WANT TO TALK TO XI RIGHT NOW, COULD EVEN CUT CHINA TIES
Trump signaled a further deterioration of his relationship with China over the Covid-19, saying he has no interest in speaking to President Xi Jinping right now and going so far as to suggest he could even cut ties with the world's second-largest economy.
In an interview with Fox Business Network broadcast on Thursday, Trump said he was very disappointed with China's failure to contain the disease and that the pandemic had cast a pall over his January trade deal with Beijing, which he has previously hailed as a major achievement.
"They should have never let this happen," Trump said. "So I make a great trade deal and now I say this doesn't feel the same to me. The ink was barely dry and the plague came over. And it doesn't feel the same to me."
Trump was asked about a Republican senator's suggestion that U.S. visas be denied to Chinese students applying to study in fields related to national security, such as quantum computing and artificial intelligence. "There are many things we could do. We could do things. We could cut off the whole relationship," he replied.
IMPACT: Trump and his Republican backers have accused Beijing of failing to alert the world to the severity and scope of the Covid-19 outbreak and of withholding data about the earliest cases. The pandemic has sparked a sharp global recession and threatened Trump's November re-election chances. Opponents of Trump have said that while China has much to answer for over the outbreak, he appears to be seeking to deflect attention from criticism over his response to the crisis. As tensions escalate, Safe Haven currencies will continue to trade well and growth currencies such as AUD will suffer. 
DAY AHEAD
Millions of Americans have been applying for unemployment benefits the past two months as the business pressure stemming from the Covid-19 crisis had led to massive layoffs, increasing concerns about how deep consumption, which accounts for two-thirds of the US economy, could crash at some point this year. US retail sales due later today are expected to reinforce those worries, reflecting the steepest monthly decline in spending. However, the data may not necessarily expose the Dollar to a notable sell-off as risk aversion is likely to take hold.
SENTIMENT
OVERALL SENTIMENT: 
The schizophrenia that has plagued risk sentiment of late remains. Almost inexplicably, weak stocks staged a comeback and ended the day on a strong note. This is despite various Fed speakers (Powell, Evans, Bullard) warning of a protracted downturn and that current data is not showing the true extent of the economic damage. Health experts, on the other hand, are warning of a worsening situation in the Covid-19 outbreak if action is not taken now and that the vaccine will take longer than the market expects ("12-18 months is an aggressive timeframe").
The only people optimistic are politicians such as Trump and his cronies. We've seen this movie before. It does not end well.
FX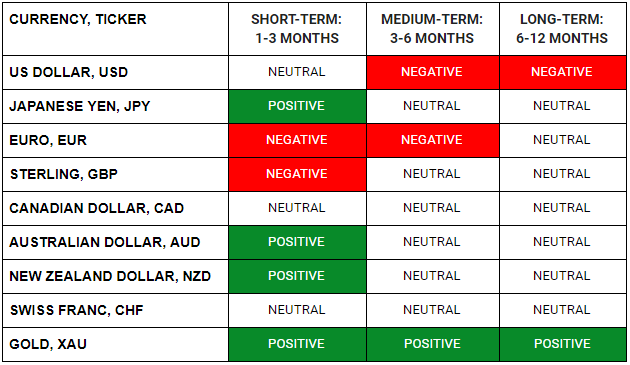 STOCK INDICES

TRADING TIP
All Aboard!
Gold was trading higher as stocks were down on the lows of the day, and as stocks recovered almost 3% from the lows, Gold remained close to the highs of the day. It seems that Gold has finally shook off the weak longs and looks about to take off. 
Silver was even better, it was at the highs of the day when stocks were at the lows, and it went a few percent higher as stocks went to the highs of the day!
We've said it once, we'll say it again. Hard assets should and will benefit in the environment of incessant money printing. 
Enough said. Have a good weekend!