WHAT HAPPENED YESTERDAY

As of New York Close 25 Mar 2020,

FX

U.S. Dollar Index, -0.74%, 100.91
USDJPY, -0.34%, $110.85
EURUSD, +0.92%, $1.0889
GBPUSD, +0.77%, $1.1849
USDCAD, -1.65%, $1.4223
AUDUSD, -0.90%, $0.5904
NZDUSD,  -0.36%, $0.5807

STOCK INDICES

S&P500, +1.15%, 2,475.56
Dow Jones, +2.39%, 21,200.55
Nasdaq, -0.45%, 7,384.29
Nikkei Futures, -1.59%,18,810.0

COMMODITIES

Gold Futures, -1.35%, 1,638.45
Brent Oil Futures, +1.33%, 27.51
SUMMARY: 
To say volatility was high is an understatement. GBP opened at 1.1755 and crept higher throughout the day before rallying hard to a high of 1.1973. Then it started to fall like a rock to 1.1640s before bouncing hard all the way to 1.1912. All these movements could not really be explained by any headlines and left many traders scratching their heads and licking their wounds. 
The outperformer of the day was CAD which strengthened relentlessly throughout the day. The Dollar is waiting upon the U.S. Fiscal Bill approval and Unemployment Claims before making some purposeful headway. Expect elevated volatility in FX markets until these two key events are cleared. 
S&P 500 advanced as much as 5.1% on Wednesday, as investors continued to buy beaten-up shares of companies after the Senate agreed to a revised stimulus plan, but the market faltered into the close amid some political drama and profit-taking. The benchmark index finished up 1.15% for the session. The Dow Jones Industrial Average (+2.39%) outperformed on the back of a strong showing by Boeing (BA 158.73, +31.05, +24.3%). Boeing shares surged 24%, as the company stands to benefit from the stimulus bill that will rescue the airline industry. Reports indicated the company could also receive direct aid from Washington and that the company aims to restart production of the 737 MAX by May. The Russell 2000 increased 1.3%, while Nasdaq Composite declined 0.45%. U.S. 2yr Yields fell 4bp to 0.34% and U.S. 10yr Yields rose 4bp to 0.88%
An agreement was reached in the early hours of the morning, but a vote in the Senate was delayed due to a "massive drafting error" in the bill (error is explained more below). There was some hope that the House would then approve the bill with a unanimous consent resolution despite lingering complaints in order to provide financial relief for Americans and businesses as soon as possible.
Sentiment soured after Senator Sanders threatened to hold up the Covid-19 bill and demand new restrictions on the $500 billion fund for corporations. Rep. Alexandria Ocasio-Cortez also warned she may oppose the unanimous consent resolution, which could further delay financial relief. 
"Massive Drafting Error": Four Republican senators are warning that they will oppose fast-tracking the $2 trillion coronavirus response package unless a "massive drafting error" in the legislation, which they say would create an incentive for employers to lay off employees, is fixed. The concern from Sens. Graham, Tim Scott, R-S.C., Ben Sasse, R-Neb., and Rick Scott, R-Fla., is that the current version could pay workers more in unemployment benefits than they're currently making, by sticking a $600 per week payment on top of ordinary benefits that are calculated as a percentage of income. This could disrupt the labor market further, the lawmakers warn.
TEMPERS RISE AS U.S. SENATE AWAITS VOTE ON $2 TRILLION COVID-19 BILL
Republican and Democratic leaders of the U.S. Senate hoped to vote on Wednesday on a $2 trillion emergency package to alleviate the devastating economic impact of the Covid-19 pandemic but found themselves fending off critics from the right and left who threatened to hold up the bill.
Several Republican senators said the bill needed to be changed to ensure that laid-off workers would not be paid more than they earned on the job. "Why would the senators hold up this really important bill because they resent people at the low end of the spectrum who have lost their jobs, from getting $600?" House of Representatives Speaker Nancy Pelosi asked on CNN.
The legislation will also provide $350 billion for small-business loans, $250 billion for expanded unemployment aid and at least $100 billion for hospitals and related health systems. The rescue package would be the largest ever approved by Congress and follows two others that became law earlier this month. The money at stake amounts to nearly half of the $4.7 trillion the U.S. government spends annually.
IMPACT: The stimulus isn't going to help slow down the rate of Covid-19 infections, but it may speed an economic recovery if the nationwide efforts to curb the virus prove successful. Granted, there's still uncertainty about that outlook, but the market has gotten anxious about getting funding to the businesses and workers who need it most right now.
CANADA DOUBLES VALUE OF COVID-19 STIMULUS PACKAGE, PROMISES CASH, LOAN DELAYS
The package is worth C$52 billion ($36.62 billion), up from an initial C$27 billion outlined last week. More than a million people signed up for unemployment benefits last week. Oil companies asked Ottawa to free up cash and credit to survive, and banks could be hit harder than during the 2008 financial crisis. The package, which Parliament approved earlier on Wednesday, includes an additional C$55 billion in tax deferrals.
The aid package will give people affected by the outbreak C$2,000 a month and delay student loan repayments, among other measures to boost the economy, Prime Minister Justin Trudeau said. A portal will be set up by April 6 for people who have lost jobs or are unable to work to apply for monthly payments, which will run for four months. The plan delays student loan payments for three months.
IMPACT: The government said Canadians made nearly one million claims for unemployment benefits last week, which is equivalent to about 5% of Canada's workforce. A survey found that 44% of Canadian households had someone who had lost hours due to the Covid-19 shutdown. A third said they were concerned about missing a mortgage or rent payment.
SPAIN'S COVID-19 DEATH TOLL OVERTAKES CHINA'S
Spain's Covid-19 death toll jumped by 738 overnight to exceed that of China, as the country struggled to cope with an accelerating health crisis and another senior government minister was diagnosed with the virus.
With 3,434 fatalities, Spain now has the second-highest number of deaths globally after Italy's 6,820. Nursing homes across the country have been overwhelmed by cases and a skating rink in Madrid has been turned into a makeshift morgue.
IMPACT: Spain is on Day 11 of a 15-day nationwide lockdown which is likely to be extended to 30 days. Schools, bars, restaurants, and most shops are shuttered. Social gatherings are banned. People are confined to their homes. Aside from the devastating health impact, the lockdown has dealt a punishing blow to the Spanish economy, with tens of thousands of workers temporarily laid off as sectors such as retail, tourism and manufacturing grind to a halt. One of Spain's biggest employers, El Corte Inglés, said it would temporarily lay off 22,000 workers at its department stores. The Bank of Spain said on Wednesday that there had been severe disruption to the economy since early March and a sharp contraction in consumer spending.
DAY AHEAD
The panic that has gripped financial markets is unlikely to subside, and if anything, the upcoming Initial Jobless Claims data could pour more gasoline on the fire. All this time, investors had been 'flying blind' as they were merely guessing how big the virus impact would be – but this changes later today. The weekly numbers of Americans filing for unemployment benefits will give markets a taste of just how big the damage is.
And it's likely to be enormous. Forecasts suggest that Initial Jobless Claims will shoot up to 1 million, from 281k last week. If true, this would be the highest print ever, far exceeding the previous record of 695k from back in 1982. In fact, the risks seem tilted towards an even bigger surge than what's expected. Preliminary data from some US states that have reported their own claims already point to a much larger nationwide increase. Take Ohio for example – a state with less than 12 million in population – reported roughly 140k jobless claims for the week in question, a 28-fold increase from the previous week.
Similar increases have been reported in other states. The most worrisome part is that several states saw their employment websites crash due to a surge in traffic, so the real number of benefit seekers may be even higher than what's been reported so far.
SENTIMENT
OVERALL SENTIMENT: 
It was the first two-day streak of gains for the US stock markets since Feb, amid improvement in sentiment due to more positive talk of the impending stimulus package. However, with key issues remaining to be sorted out, the world still needs to wait for the vote on the bill. With the Fed now focusing on the implementation of the various programmes that it had announced to stabilise the funding and credit markets, some sense of stability will slowly return. The fundamentals of the economy remain poor and will continue to plague the minds of investors. Trump's insistence on re-opening the economy ASAP is a key risk and is much like the script of a movie where the mayor of a town insists on reopening the beaches because there hasn't been a shark sighting for a few days. 
For those celebrating one of the biggest rallies in the stock markets in history, seeing when 9 of the other top 10 stock rallies in history occurred should adequately curb your enthusiasm.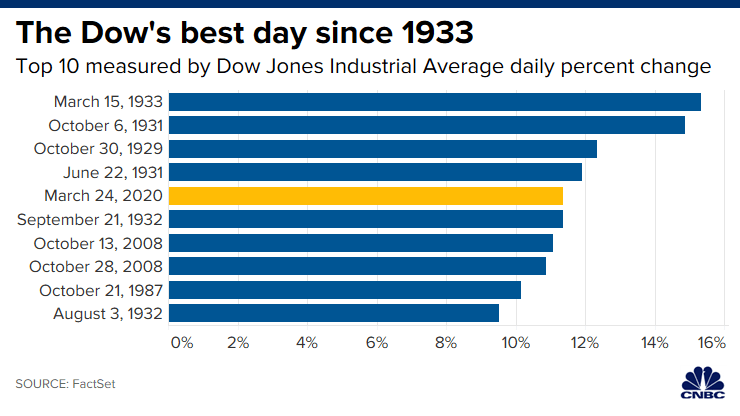 FX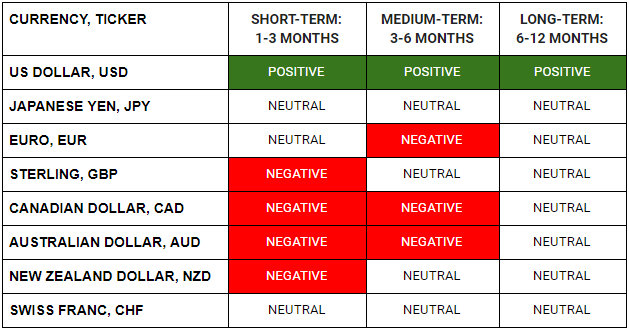 STOCK INDICES


TRADING TIP
Resist the FOMO
In volatile times like these, there will always be the Fear of Missing Out as markets swing from one extreme to the other. We are living through the biggest disruption to the world economy in years, if not ever. There will be many opportunities and a crisis such as this does not get resolved within a few weeks. 
Do not rush into chasing moves just because things are moving fast. Take a deep breath, focus on picking the lower hanging fruits as there are many opportunities and just because you miss one today, it doesn't mean you have to settle for marginal trades.
The objective is to be profitable, not to be involved.