WHAT HAPPENED YESTERDAY

As of New York Close 24 Mar 2020,

FX

U.S. Dollar Index, -0.81%, 101.66
USDJPY, -0.08%, $111.13
EURUSD, +0.70%, $1.0798
GBPUSD, +2.07%, $1.1789
USDCAD, -0.39%, $1.4442
AUDUSD, +2.40%, $0.5968
NZDUSD,  +1.77%, $0.5824

STOCK INDICES

S&P500, +9.38%, 2,447.33
<b>Dow Jones, +11.37%, 20,704.91
Nasdaq, +8.12%, 7,417.86
Nikkei Futures, +10.58%,18,742.5

COMMODITIES

Gold Futures, +7.97%, 1,692.55
Brent Oil Futures, +2.33%, 27.66
SUMMARY: 
The Dollar remained on the backfoot on Wednesday as global markets await the stimulus package out of the U.S., before deciding if further flight to cash due to lack of cooperation from the government is necessary. Gold had a big up move, especially in the futures market (more on that below). JPY trades weak despite general USD weakness. No good reason can be found except that maybe Japanese investors are continuing to invest in overseas assets. The Japanese pension fund GPIF (160 trillion JPY (1.45 trillion USD)) is seeking approval to increase its allocation to foreign bonds from 15% to 25% with effect from 1 April. The final decision will be announced on 31 March.
S&P 500 surged 9.38% on Tuesday, as news that the elusive fiscal stimulus package was close to being agreed to in the Senate spurred a broad-based rebound. The Dow Jones Industrial Average climbed 11.37%, the Nasdaq Composite climbed 8.12%, and the Russell 2000 climbed 9.4%. U.S. 2yr Yield rose 10bp to 0.38% and U.S. 10yr Yield rose 8bp to 0.84%.
Lawmakers continued to narrow their differences on the stimulus bill, with Senate Minority Leader Schumer (D-NY) placing negotiations "on the two-yard line" around lunchtime. According to CNBC, the White House is hopeful to have an agreement in principle by "sunset," but noted it was unlikely that an actual Senate vote would take place tonight.
An agreement is needed to restore some confidence for consumers, investors, and businesses during the economic shutdowns across the country. The Fed has already stepped in numerous times to expand credit and liquidity, while Trump today said he would like to have the economy to reopen by Easter (12 April) despite the outbreak.
New York Governor Cuomo, who has been very active in trying to slow the rising rate of infections, empathized with the president but argued that we shouldn't "accelerate the economy at the cost of human life." NYC Mayor De Blasio was blunter, saying Trump is wrong and April will be worse than March. 
The situation in NYC is extremely worrying as I personally have a few friends who are experiencing symptoms of Covid-19 infection but are not in the official statistics. They are quarantining themselves at home and will only seek treatment if their condition worsens because the hospitals are currently swamped.
$2 TRILLION COVID-19 AID DEAL TAKES SHAPE IN U.S. CONGRESS
Senior Democrats and Republicans in the divided U.S. Congress said on Tuesday they were close to a deal on a $2 trillion stimulus package to limit the Covid-19 pandemic's economic toll, but it was unclear when they will be ready to vote on a bill.
The $2 trillion package includes a proposed $500 billion fund to help hard-hit industries and a comparable amount to send direct payments of up to $3,000 to millions of U.S. families, as well as $350 billion for small-business loans, $250 billion for expanded unemployment aid and at least $75 billion for hospitals.
House of Representatives Speaker Nancy Pelosi, the top Democrat in Congress, said the sides had agreed to more oversight provisions for the proposed $500 billion to help hard-hit industries, resolving a key sticking point. The latest version would increase unemployment benefits by up to $600 per week, ensuring that many who lose their jobs would not see a drop in income, according to a Democratic aide. Jobless benefits currently pay workers a fraction of their salaries.
IMPACT: Republicans normally hold a slim 53-47 majority in the Senate, meaning they need Democratic support to garner the 60 votes required to advance most legislation. But the Covid-19 has affected their ranks, giving Democrats more leverage. Republican Senator Rand Paul has tested positive for the Covid-19 virus and four other Republicans are also unable to vote because they were exposed to Paul or others with the virus. Wall Street bounced from three-year lows on Tuesday on hopes the Senate might be close to ending its standoff. Markets are buying on the rumour that it will soon be announced, what happens when it becomes fact?
MODI PUTS ALL OF INDIA UNDER LOCKDOWN FOR 21 DAYS TO  FIGHT COVID-19
Indian Prime Minister Narendra Modi said on Tuesday the government would impose a nationwide lockdown from midnight for 21 days to stem the spread of the Covid-19. "There will be a total ban on venturing out of your homes," Modi said in a televised address. India has so far reported 482 confirmed cases of the Covid-19 and nine deaths.
IMPACT: Modi accepted the lockdown would come at an economic cost, while announcing 150 billion rupees (S$2.8 billion) for strengthening testing facilities, personal protective gear, isolation, and intensive care unit (ICU) beds and other essential equipment. With less than 500 confirmed cases, Modi is shutting a country with a population of 1.3 billion. He is doing what is required to stop the spread of the virus instead of waiting to react to the inevitable spread and make it even harder to contain the outbreak. 
AMID WORSENING PANDEMIC, TRUMP SAYS AMERICA SHOULD RE-OPEN FOR BUSINESS BY MID-APRIL
Trump pressed his case on Tuesday for a re-opening of the U.S. economy by mid-April despite a surge in Covid-19 cases, downplaying the pandemic as he did in its early stages by comparing it to the seasonal flu.
During a live town hall broadcast on Fox News Channel, he said he would like to have businesses opening their doors again by Easter, which will be celebrated on April 12. "I would love to have the country opened up and just raring to go by Easter," he said.
Trump said the country did not take drastic measures to fight car crashes and flu deaths similar to those it is taking for the Covid-19. He said Americans could continue practicing social-distancing measures, which health experts say are crucial to prevent infection, while also going back to work.
"Our people want to return to work," he said on Twitter earlier on Tuesday. "They will practice Social Distancing and all else, and Seniors will be watched over protectively & lovingly. We can do two things together. THE CURE CANNOT BE WORSE (by far) THAN THE PROBLEM!"
IMPACT: Trump and his economic and health advisers are mulling how to proceed after the 15-day period of tough measures to slow the pandemic. White House economic adviser Larry Kudlow, speaking to reporters at the White House, said the Trump administration was looking at low-infection areas where the economy might be reopened after a 15-day shutdown period ends next week. Trump's desire to get the economy back to normal right away has faced criticism from Democrats and Republicans as the Pentagon and others forecast the outbreak could last for months.
CME TO LAUNCH NEW GOLD FUTURES CONTRACT WITH EXPANDED DELIVERY OPTIONS (DUE TO PHYSICAL GOLD SUPPLY DISRUPTION)
On Tuesday, Reuters reported the London Bullion Market Association (LMBA) and several major banks that trade gold had asked CME Group to allow gold bars in London to be used to settle its contracts to ease disruption to trading.
In response, U.S. exchange operator CME Group Inc said on Tuesday it was launching a new gold futures contract with expanded delivery options that include gold bars, in a bid to address the disruptions. The gap between gold futures on the CME's Comex exchange in New York widened above London spot prices by as much as more than $70 per ounce (4%). 
IMPACT: The two usually remain within a few dollars of one another, and the gap skewed trading in the London market. This is a good example of how normal market pricing relationships breakdown in times of stress. This explosion in the difference of the April futures (which has 6 days left to Notice day) and spot cash price is due to a breakdown in logistics impairing the ability of gold miners/owners, who sold the futures to hedge, to deliver physical gold to the longs of the futures contract.
DAY AHEAD
In the U.S, all eyes will be on the weekly jobless claims, which will be released on Thursday. This will reveal how much damage the virus outbreak has already inflicted on the US economy, and investors are terrified that the number of Americans filing for unemployment benefits is about to skyrocket as consumption collapses and businesses lay people off. A huge surge in jobless claims could cement fears of a recession and therefore spell more trouble for stock markets, though the strong Dollar may not be affected as much. 
SENTIMENT
OVERALL SENTIMENT: Markets started celebrating the "imminent" approval of the stimulus package from the US with the biggest rally in history. Covid-19 infection continues to spread yet Trump is talking about reopening the economy in a matter of weeks. NYC Mayor immediately commented that Trump is wrong, and it will be much worse in April than in March. 
It is clear that Trump's priority is to get the stock markets higher, but it will end up risking more lives and prolonging the crisis. Bear markets are full of fierce rallies but make no mistake, it remains a bear market.
FX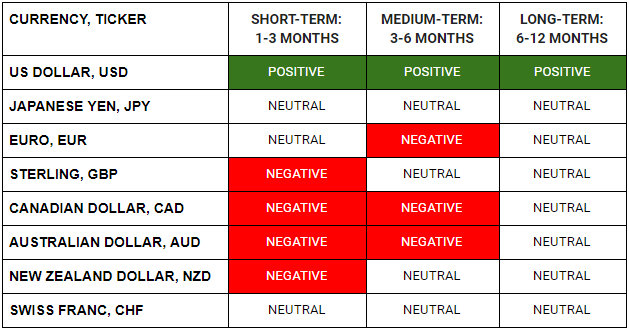 STOCK INDICES


TRADING TIP
The Cat Bounces High
Bull markets occur in typically low volatility environments because not only are the fundamentals driving the markets higher, there is no one opposing the move except the bears who are losing money. Policymakers are all busy congratulating themselves on a job well done and everyone else in general is doing well because of their 401k's and passive investments. 
On the other hand, bear markets are never easy to trade as shorts will have to contend with policymakers who are incentivised to fight the fundamentals. As such, bear markets are characterised by aggressive rallies amid high volatility as central bankers and politicians alike implement policies to thwart the repricing of risk assets. 
As we've said before, markets rarely go down in a straight line. However, if you drop a cat from a high enough building, it will bounce. However high it bounces, the cat is still dead. The higher the bounce, the further it has to fall again.